ORAL NOISE
From NoiseWiki
Jump to navigation
Jump to search


Oral Noise is a noisecore band from Germany. This band is a side project of ANAL MASSAKER started by Toni Mastropaolo, and Dyrk.

This is Oral Noise line up:

Toni Mastropaolo: drums
Dyrk: guitar
Inge: voice
Florian: manager ?


Oral Noise concept is the most noisecore classical concept: nonsense and stupidity.
This band R.I.P.


This is the Oral Noise discography:

"Repossessed" demo tape


"222 songs singel" 7"
(Schnauf Records)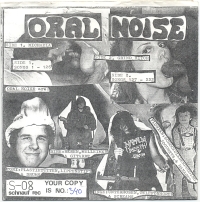 Oral Noise unofficial myspace: [[1]]
Toni Mastropaolo e-mail: alienaudio@gmx.de